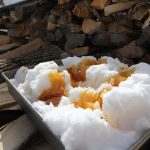 Print Recipe
Sugar On Snow
Learn how to make this delicious spring time treat
Equipment
Deep heavy pot for heating syrup

Candy or meat thermometer (must reach 250° F)

Wide shallow pan for snow, such as a 9 x 13 baking dish.
Instructions
Collect fresh snow and pack into the baking dish. Keep frozen.

Heat the syrup, stirring to prevent burning, until it boils and reaches a temperature of 235°F as read on the candy thermometer. 

If you don't have a thermometer test the syrup for readiness by dropping a bit of the syrup into a cup of cold water.  If it balls up, it's ready.

Drizzle the hot syrup over packed snow. It will firm up right away.

Use a spoon or popsicle stick to swirl it up off the snow and enjoy!